YZ78 series frame type automatic mold release hydraulic press
---
I. Overview: This series of hydraulic presses This series of hydraulic presses is a model specially developed for diamond tool industry. This series of hydraulic press has simple structure, sensitive and reliable action, safe and convenient operation, and can realize two operation modes of point-action adjustment and semi-automatic work. Features: 1. Integral structure of main machine and oil tank, compact and beautiful appearance, easy to install. 2. Fast speed and slow speed approaching to the part making function, fast speed, high efficiency and low energy consumption. 3. Safety photoelectric protection device and over-travel protection function, to achieve man-machine safety production. Main technical parameters: Item unit YZ78-200TY78-300T Remarks Nominal pressure KN20003000 Maximum working pressure of hydraulic system Mpa2525 Maximum stroke of movable table mm160160 Maximum distance from table to upper beam mm380380 Rapid rise speed of main cylinder mm/s140140 Pressurized rise speed of main cylinder mm/s s6.51.5-4 Master cylinder fast return speed mm/s120-210100-170 Return cylinder nominal pressure KN200300 Return cylinder stroke mm4545 Effective area of table left and right mm530620 Front and rear mm510650 Oil pump flow rate L/min12-3612-36 Motor power KW7.57.5 Contour size (left and right*front and rear*high)mm1290*1000*high height)mm1290*1000*15501360*1000*1700Complete machine weight(approx)KG30004000Including automatic demoulding device
---
I. Overview:
This series of hydraulic press This series of hydraulic press is a model specially developed for diamond tool industry. This series of hydraulic press has simple structure, sensitive and reliable action, safe and convenient operation, and can realize two kinds of operation modes: point-action adjustment and semi-automatic work.

II. Features:
1、The whole structure of main machine and oil tank, compact and beautiful appearance, easy to install.
2、With empty range fast and slow approaching parts making function, fast speed, high efficiency and low energy consumption.
3、Configuration of front and rear operation buttons, Siemens PLC control, simple and convenient operation, work balance, low noise.
4、Adopt imported hydraulic components and electrical components, durable, to ensure stable operation of the machine.
5、Configuration of safety photoelectric protection device and over-travel protection function, to achieve man-machine safety production.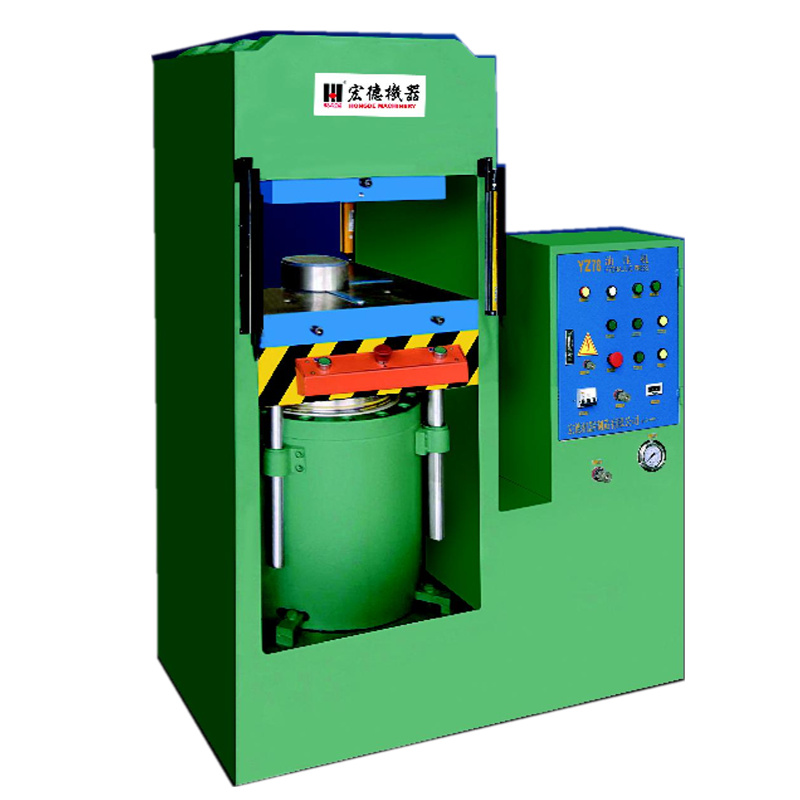 III. Main technical parameters:
Item

Unit

YZ78-200T

Y78-300T

Remarks

Nominal pressure

KN

2000

3000

Max. working pressure of hydraulic system

Mpa

25

25

Max. stroke of movable table

mm

160

160

Max. distance from worktable to upper beam

mm

380

380

Rapid rise speed of main cylinder

mm/s

140

140

Main cylinder pressurized rise speed

mm/s

6.5

1.5-4

Rapid return speed of main cylinder

mm/s

120-210

100-170

Nominal pressure of withdrawal cylinder

KN

200

300

Stroke of unloading cylinder

mm

45

45

Effective area of working table
Around

mm

530

620

Before and after

mm

510

650

Oil pump flow rate

L/min

12-36

12-36

Motor power

KW

7.5

7.5

Contour size (left and right*front and back*height)

mm

1290*1000*1550

1360*1000*1700

Weight of the whole machine (approx.)

KG

3000

4000

With automatic mold release device
Engaging in Hydraulic Press ---Since 1996---
Official account