YDK Series Narrow Body Frame Hydraulic Press
---
I. Overview: This series of hydraulic presses is suitable for pressing and molding industries of hardware, clocks and watches, electrical appliances, glasses, jewelry, handicrafts, rubber and many other metal materials and the pressing process of non-metal materials (such as pressing hard alloy tools, grinding wheel molding, etc.); it is especially suitable for precision embossing process. According to its function options are divided into: ordinary E type (with empty range fast, slow speed close to the parts-making function), F type (with E type and return material function two functions). Features: 1, the host, the tank overall structure, compact and beautiful appearance, easy to install. 2, simple structure, sensitive and reliable action, safe and convenient operation, can realize the point of adjustment and semi-automatic work two kinds of operation. 3, with upward and downward fast device and counter, smooth work, fast speed, high efficiency, low energy consumption. 4, the use of imported hydraulic components and electrical components, durable, to ensure the stability of the machine operation. 5, the electrical system. 5、Electrical system adopts German Siemens PLC control, simple and convenient operation, reliable operation. 6、Configuration of safety photoelectric protection device and over-travel protection function, to achieve man-machine safety production. Main technical parameters: Item unit YDK-100TYDK-200TYDK-300TYDK-500T Remarks Nominal pressure KN1000300030005000 Maximum working pressure of hydraulic system Mpa2025252525 Maximum stroke of movable table mm140160160160 Maximum distance from table to upper beam mm350380380420Main cylinder fast rise speed mm/s135140140220Main cylinder pressurized rise speed mm/s41.5-41.5-41.5-41.5-4Main cylinder fast return speed mm/s150120-170120-170130-220Return cylinder nominal pressure KN609090100Working table effective area around mm416620620694 front and rear mm405650650670 oil pump flow rate L/min14.412-3612-3620-58 motor power KW5.57.57.511 contour size (left and right*front and rear*height)mm940*1000*12601070*1000*14201140*1000* 15201280*1000*1900Weight of the whole machine (approx.) KG1100200027004500
---
I. Overview:
This series of hydraulic press is suitable for many metal material pressing and molding industries such as hardware, watches, electrical appliances, glasses, jewelry, handicrafts, rubber, etc. and the pressing process of non-metal materials (such as pressing hard alloy tools, grinding wheel molding, etc.); it is especially suitable for precision embossing process. According to its function options are divided into: ordinary E type (with empty range fast, slow speed close to the parts making function), F type (with E type and receding material function two functions).

II. Features:
1, host, tank overall structure, compact and beautiful appearance, easy to install.
2、Simple structure, sensitive and reliable action, safe and convenient operation, can realize two operation modes of point-action adjustment and semi-automatic work.
3、With upward and downward fast device and counter, smooth work, fast speed, high efficiency and low energy consumption.
4、Adopt imported hydraulic components and electrical components, durable, to ensure stable operation of the machine.
5、The electrical system adopts German Siemens PLC control, simple and convenient operation, reliable operation.
6、Configuration of safety photoelectric protection device and over-travel protection function, to achieve man-machine safety production.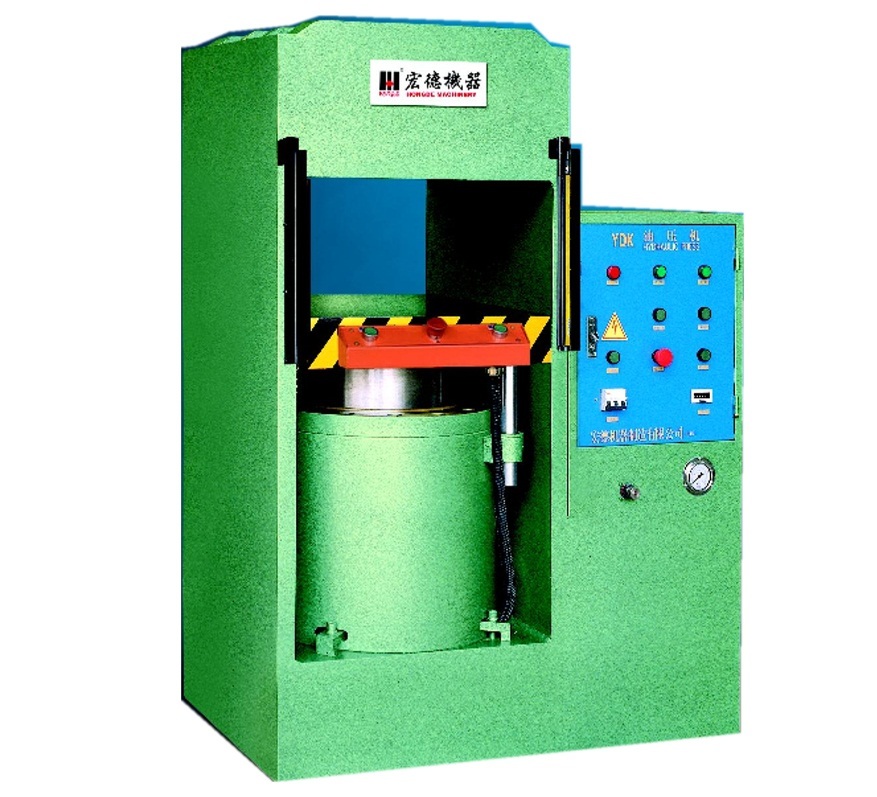 三、主要技术参数:
Item

Unit

YDK-100T

YDK-200T

YDK-300T

YDK-500T

备注

Nominal pressure

KN

1000

3000

3000

5000

Max. working pressure of hydraulic system

Mpa

20

25

25

25

Max. travel of movable table

mm

140

160

160

160

Max. distance from worktable to upper beam

mm

350

380

380

420

Rapid rise speed of the main cylinder

mm/s

135

140

140

220

Main cylinder pressurized rise speed

mm/s

4

1.5-4

1.5-4

1.5-4

Rapid return speed of main cylinder

mm/s

150

120-170

120-170

130-220

Nominal pressure of discharge cylinder

KN

60

90

90

100

Effective area of workbench

Around

mm

416

620

620

694

Before and after

mm

405

650

650

670

Oil pump flow

L/min

14.4

12-36

12-36

20-58

Motor power

KW

5.5

7.5

7.5

11

Profile size (left and right * front and back * height)

mm

940*1000*1260

1070*1000*1420

1140*1000*1520

1280*1000*1900

Weight of the whole machine (approx.)

KG

1100

2000

2700

4500
Engaging in Hydraulic Press ---Since 1996---
Official account