Y30 series single column hydraulic press
---
I. Overview: This series of hydraulic press is suitable for metal or non-metal parts embossing, molding, shallow drawing, shaping and pressure assembly; such as auto parts, glasses, mirror mold, electronic connectors, electrical parts, motor rotation, stator pressing and other hardware parts. Features: 1、Sturdy open structure with integral welding, simple structure, strong rigidity, easy and convenient operation. 2、Integrated fast cylinder, fast empty stroke speed, high production efficiency, low energy consumption. 3、Imported hydraulic components and electrical components, durable, ensure smooth operation of the machine. 4、Electrical system using German Siemens PLC control, sensitive and reliable action, stable operation. 5、Convenient The manual adjustment mechanism can adjust the press head or the upper table to press at any position in the stroke, and can also adjust the length of the fast and working process within the designed stroke. 6、Configuration of safety photoelectric protection device and over-travel protection function, to achieve man-machine safety production. 7、Pressure can be adjusted according to the process needs to achieve infinitely, to ensure high precision products. Third, the main technical parameters: Item unit Y30-10TY30-15TY30-20TY30-40T Remarks Maximum nominal pressure KN100150200400 Hydraulic system maximum working pressure Mpa1414141423 Maximum lifting force KN15222325 Maximum stroke mm959595160 Maximum opening degree mm265265265265400Fast descending speed mm/s265265270165Pressurized descending speed mm/s28262411.9Fast return speed mm/s150150170180Working table effective area left and right mm500530530570Before and after mm305305305400Oil pump flow rate L/ min15.11723.710motor power KW445.55.5profile size (left and right*front and back*high)mm780*1319*1682810*1319*1700810*1319*1712810*1220*1810Complete machine weight (about)KG1200130014002000
---
I. Overview:
This series of hydraulic press is suitable for metal or non-metal parts embossing, molding, shallow drawing depth, shaping and pressure assembly; such as auto parts, glasses, mirror mold, electronic connectors, electrical parts, motor turning, stator pressing and other hardware parts.

II. Features:
1、The whole welded solid open structure, simple structure, strong rigidity, simple and convenient operation.
2、Adopt built-in fast cylinder, fast empty stroke speed, high production efficiency, low energy consumption.
3、Adopt imported hydraulic components and electrical components, durable and ensure the smooth operation of the machine.
4、The electrical system adopts German Siemens PLC control, with sensitive and reliable action and stable operation.
5、Convenient manual adjustment mechanism can adjust the press head or upper table in any position in the stroke, and can also adjust the length of the rapid and working process within the designed stroke.
6、Configuration of safety photoelectric protection device and over-stroke protection function, to achieve man-machine safety production.
7、Pressure can be adjusted according to the process needs to achieve infinitely, to ensure high precision products.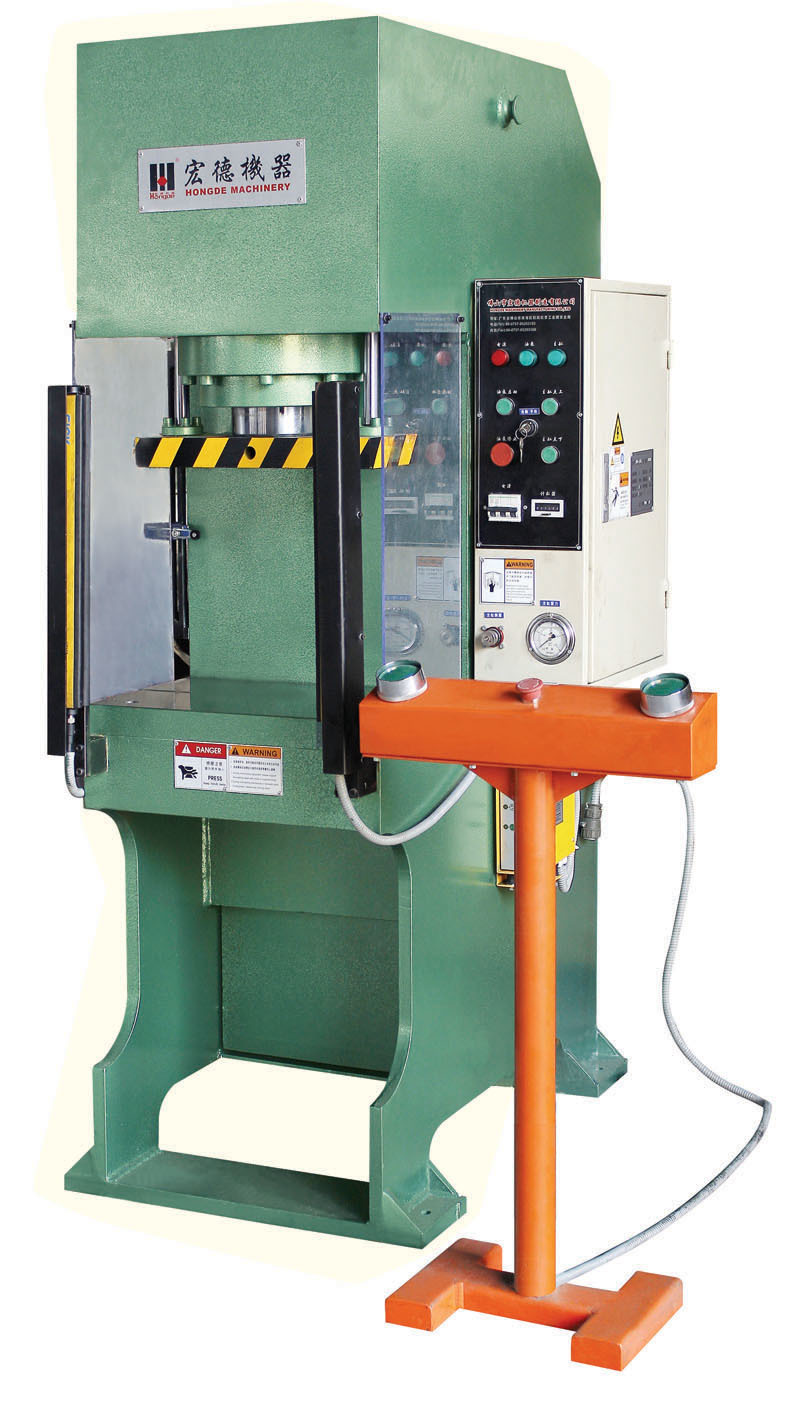 III. Main technical parameters:
Item

Unit

Y30-10T

Y30-15T

Y30-20T

Y30-40T

备注

Max. nominal pressure

KN

100

150

200

400

Max. working pressure of hydraulic system

Mpa

14

14

14

23

Maximum lifting force

KN

15

22

23

25

Maximum stroke

mm

95

95

95

160

Maximum opening degree

mm

265

265

265

400

Rapid descent speed

mm/s

265

265

270

165

Pressurized descending speed

mm/s

28

26

24

11.9

Rapid return speed

mm/s

150

150

170

180

Effective area of working table
Around

mm

500

530

530

570

Before and after

mm

305

305

305

400

Oil pump flow rate

L/min

15.1

17

23.7

10

Motor power

KW

4

4

5.5

5.5

Contour size (left and right*front and back*height)

mm

780*1319*1682

810*1319*1700

810*1319*1712

810*1220*1810

Weight of the whole machine (approx.)

KG

1200

1300

1400

2000
Engaging in Hydraulic Press ---Since 1996---
Official account