Four-column down-pressing hydraulic press, Foshan hydraulic press
---
Foshan hydraulic press
---
The role of the working medium used in Foshan hydraulic press is not only to transmit the pressure, but also to ensure that the working parts of the machine work sensitive, reliable, long life and less leakage. The basic requirements of the hydraulic machine working medium are: ① suitable fluidity and low compressibility to improve the efficiency of the transmission; ② can prevent rust and corrosion; ③ good lubrication performance; ④ easy to seal; ⑤ stable performance, long-term work without deterioration. The hydraulic machine initially used water as the working medium, and later changed to an emulsion made by adding a small amount of emulsified oil to water to increase the lubricity and reduce rust and corrosion. late in the 19th century, there was a hydraulic press with mineral oil as the working medium. In the second half of the 20th century, a new type of water-based emulsion emerged, whose emulsification form was "water-in-oil" instead of the original "water-in-oil". The external phase of the "water-in-oil" emulsion is oil, and its lubricity and anti-corrosion properties are close to oil, and it contains very little oil and is not easy to burn. However, water-based emulsions are more expensive, which limits its promotion.
Foshan hydraulic press drive system mainly has a pump direct drive and pump - accumulator drive two types. Pump direct drive The pump of this drive system provides high pressure working fluid to the hydraulic cylinder, the distribution valve is used to change the direction of fluid supply, and the relief valve is used to adjust the limited pressure of the system, while playing the role of safety relief. This drive system link less, simple structure, pressure can be automatically increased or decreased according to the required working force, reducing the power consumption, but the maximum working force and maximum working speed of the hydraulic machine to determine the capacity of the pump and its drive motor. This type of drive system is mostly used for small and medium-sized hydraulic presses, but there are also large (such as 120,000 kN) free forging hydraulic presses driven directly by pumps.
Pump-accumulator drive In this drive system there is an accumulator or a group of accumulators. When there is a surplus of high-pressure working fluid supplied by the pump, it is stored by the accumulator; and when the supply is insufficient to meet the need, it is supplemented by the accumulator. With this system, the capacity of the pump and motor can be selected according to the average amount of high pressure working fluid, but because the pressure of the working fluid is constant, the power consumption is larger, and the system has more links and a more complicated structure. This kind of drive system is mostly used for large hydraulic presses or to drive several hydraulic presses with one set of drive system.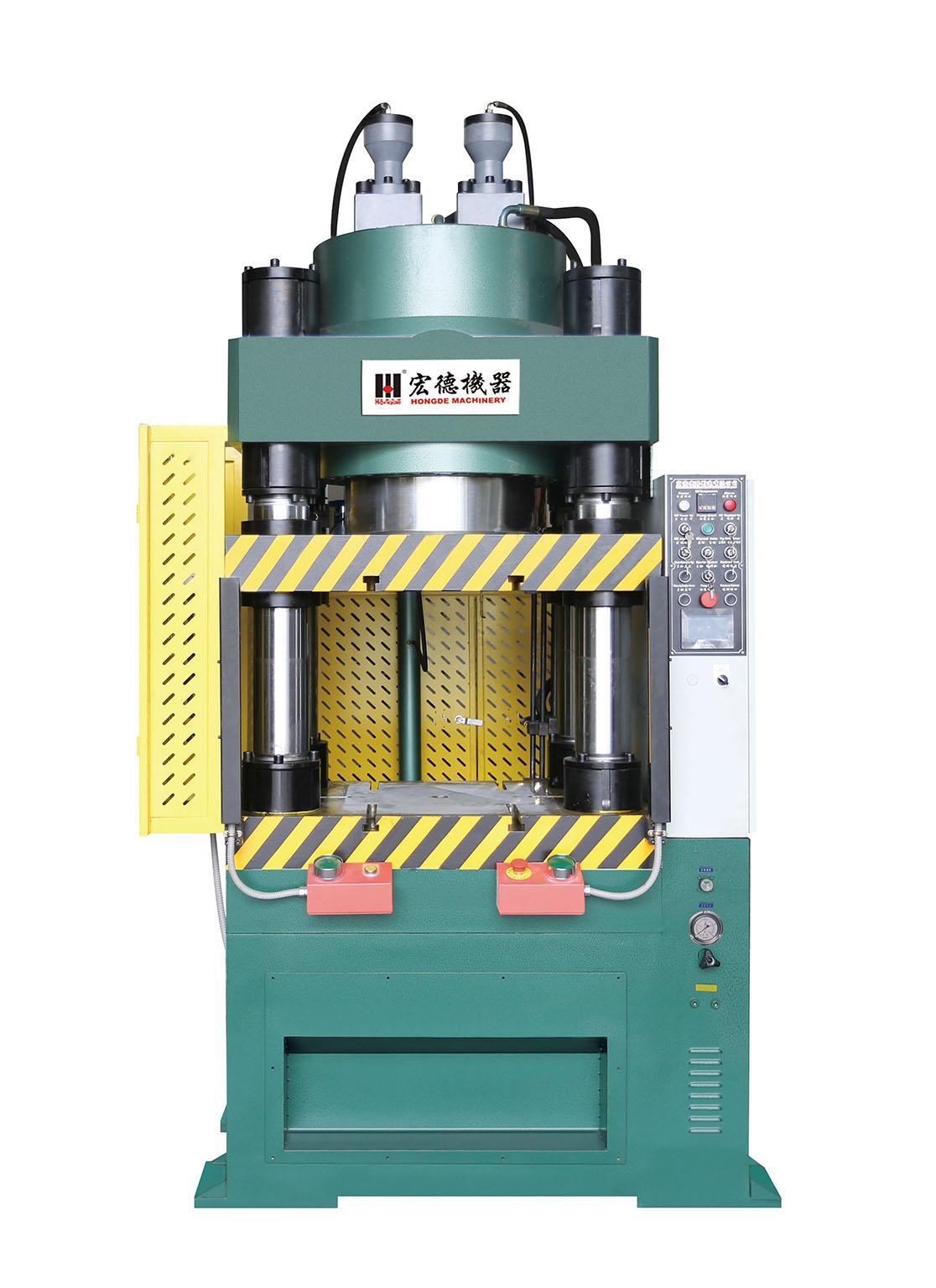 Engaging in Hydraulic Press ---Since 1996---
Official account