YB32 series full computer inverter hydraulic press
---
I. Overview: This series of hydraulic press is a new computerized frequency conversion hydraulic press developed and developed by our company specifically for the production process of pressing keyboards of washing machines, rice cookers and other home appliances and membrane switches of automation products. This series adopts the latest technology and concept in hydraulic, electrical and operation, combining human-machine interface, PLC and frequency conversion technology, with high cost performance. Features: 1. Human-machine interface and PLC control, convenient parameter setting, storage function of up to 200 sets of mold parameters and backup function of external storage media; fast speed, high efficiency, low energy consumption, sensitive and reliable work. 2. Frequency conversion technology controls speed, which can meet the requirements of different processes for speed changes and smooth action; motor shutdown standby, different speed and different speed to ensure energy saving of the machine. 3. 3、The main hydraulic components and electrical components are imported from Taiwan, Japan, the United States, Italy, durable, to ensure stable operation of the machine. 4、Configuration of rotary encoder or scale control, high repeatability of stroke control. 5、Equipped with heating device, using PID control, high precision temperature control. 3、Main technical parameters: can be specially customized
---
I. Overview:
This series of hydraulic press is a new computerized frequency conversion hydraulic press developed and developed by our company specifically for the production process of pressing keypads of washing machines, rice cookers and other home appliances and membrane switches of automation products. This series adopts the latest technology and concept in hydraulic, electrical and operation, combining human-machine interface, PLC and frequency conversion technology, with high cost performance.
II. Features:
1、Adopting human-machine interface, PLC control, convenient parameter setting, storage function of up to 200 sets of mold parameters and backup function of external storage media; fast speed, high efficiency, low energy consumption, sensitive and reliable work.
2, frequency conversion technology to control speed, can meet the requirements of different processes on speed changes, and smooth action; motor shutdown standby, different speed different speed, to ensure that the machine energy-saving.
3、The main hydraulic components and electrical components are imported from Taiwan, Japan, the United States, Italy, durable, to ensure stable operation of the machine.
4、Configuration of rotary encoder or scale control, high repeatability of stroke control.
5、Equipped with heating device, using PID control, high precision temperature control.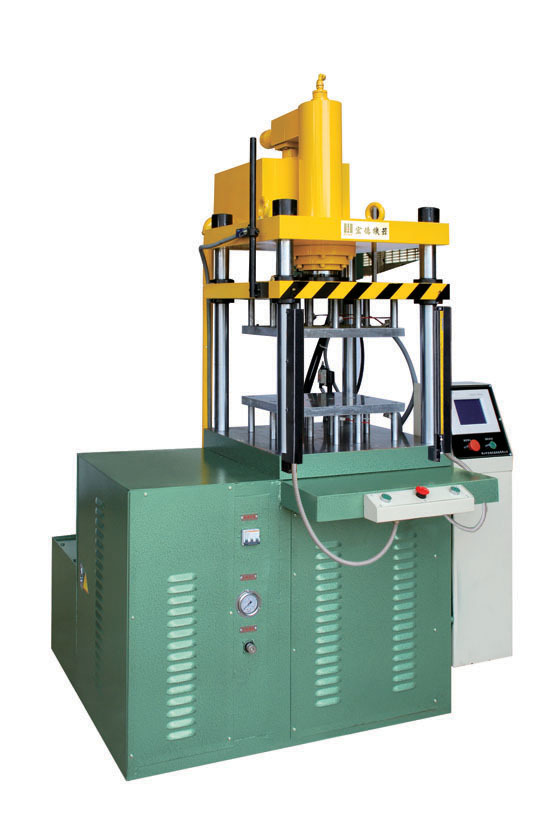 III. Main technical parameters:
Can be specially customized
Engaging in Hydraulic Press ---Since 1996---
Official account