YK28 series four-column double-action hydraulic press
---
I. Overview: This series of hydraulic press is suitable for pressing process of plastic materials in metal industry, such as thin plate stretching, flanging, punching, forming, straightening and other processes; especially suitable for aluminum thin plate, stainless steel thin plate stretching and pressing and forming of aluminum products and stainless steel products (such as pots, cups, bowls, basins, sinks, kettles, buckets and other kitchen utensils), and also for metal cold extrusion process. This machine is a new type of computerized hydraulic press that adopts the latest technology and concept, combining human-machine interface, PLC and proportional technology. II. Features: 1. Human-machine interface, PLC control, convenient parameter setting, storage function of up to 200 sets of die parameters and backup function of external storage media; fast speed, high efficiency, low energy consumption, sensitive and reliable work. 2. Application of proportional technology. With multi-segment pressure or multi-segment speed, can meet the requirements of different processes on the speed, pressure changes and smooth action. 3, the main hydraulic components and electrical components are imported from Taiwan, Japan, the United States, Italy, durable, to ensure stable operation of the machine. 4, configuration of rotary encoder or scale control, improve product accuracy. 5, piston rod and column surface high endangered, hard chrome plating, good wear resistance. Three, the main technical parameters: Item unitYK28-35KDYK28-65KDYK28-75KDYK28-100KDYK28-120KSYK28-150KDYK28-225KDYK28-350KSYK28-400KSYK28-550KSYK28-600KSYK28-750KS Remarks Nominal pressure of main cylinder KN25040050070080010001500250025002500350040005000 Maximum working pressure of hydraulic system of main cylinder Mpa1020202221212020202020200 Nominal pressure of crimping cylinder KN2530353535354555757585858585 Maximum stroke of rewind cylinder mm160160150180200200200220220250250250250 Maximum stroke of crimp cylinder piston mm180220220250260260300300300300300300400250 Maximum stroke of movable cross beam mm380450450500520540560600600650800600Distance from table to movable beam max. mm70075075086090094096011171117120015001120Max. mm320300300360380400400517517550700520 movable beam lifting speed no load down mm/s270270220220260260190250250310310230 pressurized mm/s12-359-267-2110-271910-271812-3012 -3013-3312-309-22 return mm/s150-250130-220120-195170-285125-210140-235245220220230230145 crimp cylinder piston speed up mm/s s5.514010710712010013010012095707070Downstream mm/sWith the movable beam table effective area mm380*450400*550500*550550*600580*650650*750700*880800*9901200*1000950* 1601400*12501600*1400Oil pump flow rate L/min3636365849/499049/49102/160102/160160/240160/240152/225motor power kw45.55.51115151530303030555555 contour size (left*front*height) mm1330*1100*24001470*1200*27001500*1200*26651565*1295*29401710*1400*31501800*1700*32801880*1770*37002150*1775*40002610*1800* 4200310*1950*45002830*2110*51003100*2400*4650Complete machine weight(approx)KG1700220025003000400050005500950013000150002500030000
---
I. Overview:
This series of hydraulic press is suitable for pressing process of plastic materials in metal industry, such as thin plate stretching, flanging, punching, forming, straightening and other processes; especially for aluminum thin plate, stainless steel thin plate stretching and pressing and forming of aluminum products and stainless steel products (such as pots, cups, bowls, basins, sinks, kettles, buckets and other kitchen utensils), and also for metal cold extrusion process. This machine is a new type of computerized hydraulic press which adopts the latest technology and concept and combines human-machine interface, PLC and proportional technology.
II. Features:
1、Adopting human-machine interface, PLC control, convenient parameter setting, storage function of up to 200 sets of die parameters and backup function of external storage medium; fast speed, high efficiency, low energy consumption, sensitive and reliable work.
2、The application of proportional technology. With multi-stage pressure or multi-stage speed, it can meet the requirements of different processes for speed and pressure changes and smooth action.
3、The main hydraulic components and electrical components are imported from Taiwan, Japan, the United States, Italy, durable, to ensure stable operation of the machine.
4、Configuration of rotary encoder or scale control to improve product accuracy.
5、The surface of piston rod and column is high endangered and hard chromium plated, with good wear resistance.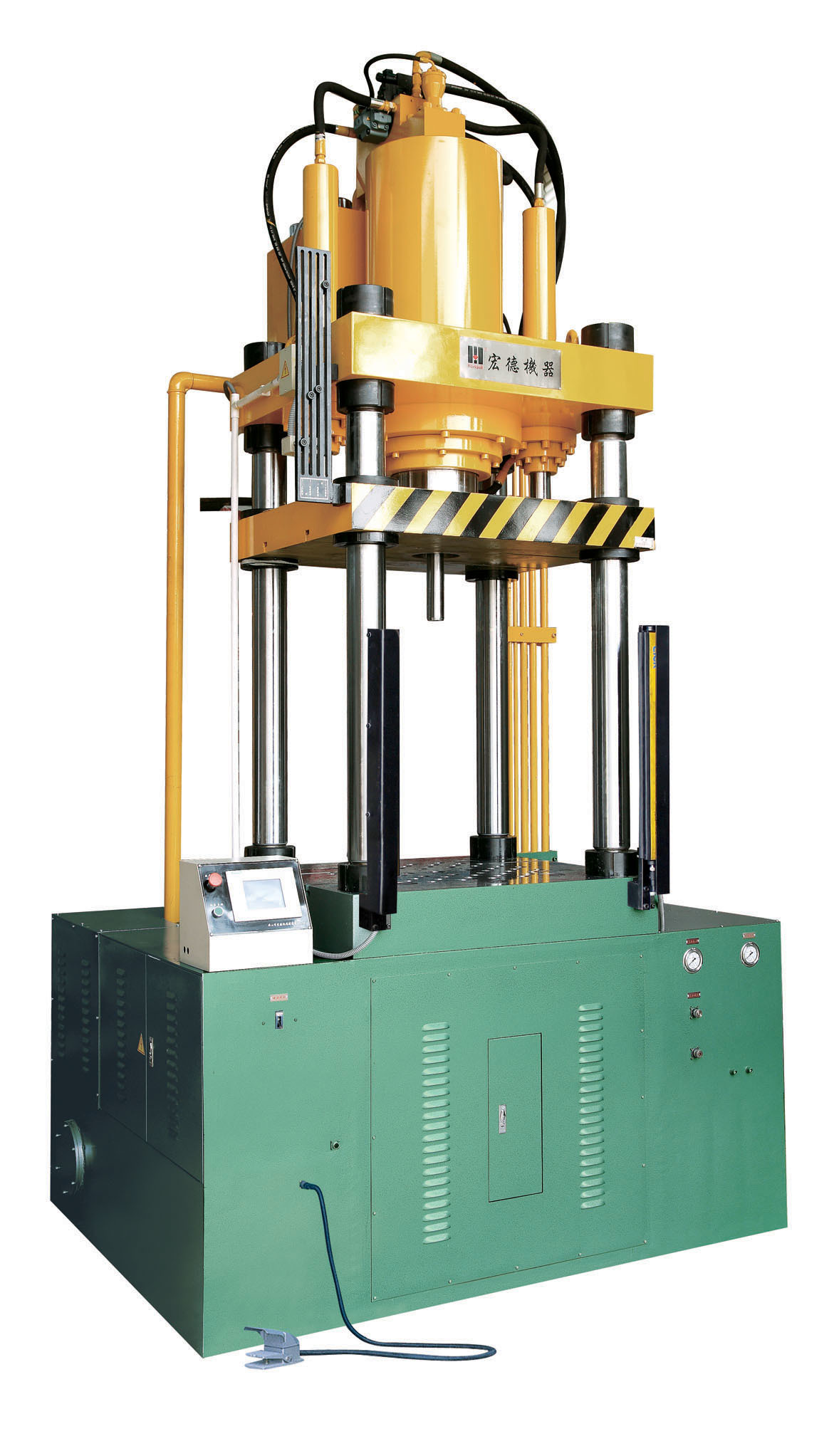 III. Main technical parameters:
Projects

Unit

YK28-35KD

YK28-65KD

YK28-75KD

YK28-100KD

YK28-120KS

YK28-150KD

YK28-225KD

YK28-350KS

YK28-400KS

YK28-550KS

YK28-600KS

YK28-750KS

备注

KN

250

400

500

700

800

1000

1500

2500

2500

3500

4000

5000

Maximum working pressure of hydraulic system of main cylinder

Mpa

10

20

20

22

21

21

20

20

20

20

20

200

Nominal pressure of crimping cylinder

KN

100

250

250

350

400

500

750

1000

1500

2000

2000

2500

Maximum working pressure of hydraulic system of crimping cylinder

Mpa

16.5

20

25

25

25

25

25

25

25

25

25

25

Master cylinder return force

KN

30

45

50

60

70

75

60

130

160

200

200

250

Nominal pressure of discharge cylinder

KN

25

30

35

35

35

45

55

75

75

85

85

85

Maximum stroke of discharge cylinder

mm

160

160

150

180

200

200

200

220

220

250

250

250

Maximum stroke of crimp cylinder piston

mm

180

220

220

250

260

260

300

300

300

300

400

250

Maximum travel of movable beam

mm

380

450

450

500

520

540

560

600

600

650

800

600

Distance from workbench to movable beam

mm

700

750

750

860

900

940

960

1117

1117

1200

1500

1120

mm

320

300

300

360

380

400

400

517

517

550

700

520

Movable beam lifting speed
No-load downstream

mm/s

270

270

220

220

260

260

190

250

250

310

310

230

Pressurization

mm/s

12-35

9-26

7-21

10-27

19

10-27

18

12-30

12-30

13-33

12-30

9-22

Return trip

mm/s

150-250

130-220

120-195

170-285

125-210

140-235

245

220

220

230

230

145

Crimping cylinder piston speed
Upstream

mm/s

5.5140

107

107

120

100

130

100

120

95

70

70

70

Downstream

mm/s

With movable crossbeam

Effective area of workbench

mm

380*450

400*550

500*550

550*600

580*650

650*750

700*880

800*990

1200*1000

950*160

1400*1250

1600*1400

Oil pump flow

L/min

36

36

36

58

49/49

90

49/49

102/160

102/160

160/240

160/240

152/225

Motor power

kw

4

5.5

5.5

11

15

15

30

30

30

55

55

55

Profile size (left and right * front and back * height)

mm

1330*1100*

2400

1470*1200*

2700

1500*1200*

2665

1565*1295*

2940

1710*1400*

3150

1800*1700*

3280

1880*1770*

3700

2150*1775*

4000

2610*1800*

4200

310*1950*

4500

2830*2110*

5100

3100*2400*

4650

Weight of the whole machine (approx.)

KG

1700

2200

2500

3000

4000

5000

5500

9500

13000

15000

25000

30000
Engaging in Hydraulic Press ---Since 1996---
Official account